4th Street Early Education Center
Envision your child walking into a school where their eyes capture the beauty of nature: trees, plants, flowers, sand, dirt, rocks, leaves, twigs, sticks, birds, squirrels, hummingbirds, butterflies, bees, caterpillars, insects, roly polies, worms, grubs, grasshoppers, and many more discoveries. All can lead them to countless opportunities for discovery, exploration, creativity, curiosity, problem-solving, experiencing the sights, scents, sounds, and textures of nature.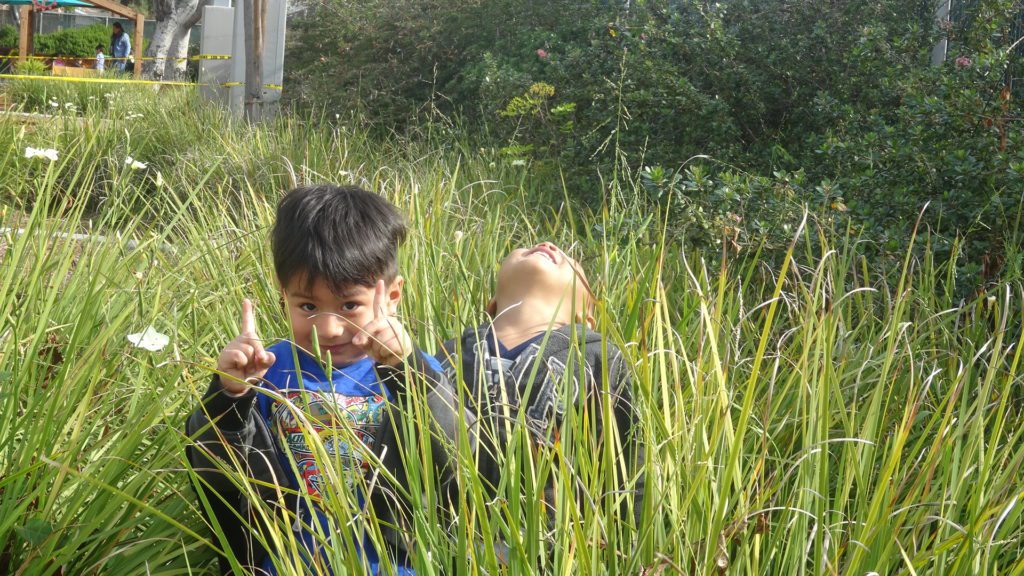 In this natural environment, your child will think, question, and make hypotheses as they develop their young inquisitive minds. This new adventure is the outdoor environment in the Nature Explore Program at 4th Street Early Education Center. Our children have opportunities to show an appreciation for nature by taking turns watering the trees, plants, flowers, and the planters with growing fruits and vegetables.
They continue to develop their problem-solving skills, creativity, and curiosity, as they socially interact and play in the sand area and mud pit pretending to bake cakes by mixing sand with rocks, making mud pies, or simply using the sand toys, or pots and pans. They move about with discovery and exploration with the sights of nature and observe the birds chirping in the trees, finding the bird's nests, the squirrels scurrying about and climbing the trees, hummingbirds hovering, butterflies fluttering, and bees buzzing as they make every effort to capture them.
Showing their inquisitiveness using magnifying glasses to discover and find insects and bugs in the dirt and plants or caterpillars evolving into beautiful butterflies. Using twigs and leaves to create their art masterpiece with paint or another art medium. Playing in the messy area using wood chips and tiny tree cookies to maneuver about or collecting rocks to play counting games.
Such a joy to see children dancing as they feel the sounds of music in the stage area developing their self-confidence. It is such an honor for teachers and assistants to contribute to our Nature Explore Program. Our children are privileged to participate in such an exciting outdoor natural environment in the Nature Explore Program. It truly fosters a love and respect for nature as our children make connections with nature. Most uniquely, it is a different adventure every day for the little minds that walk through our doors ready to learn and experience the wonders of nature.