4th Street Early Education Center
At 4th Street Early Education Center, our Nature Explore Classroom allows our students the richest kind of learning to happen naturally and holistically. The children are able to develop skills and understanding in many areas at the same time as they engage in individual meaningful explorations of the world around them.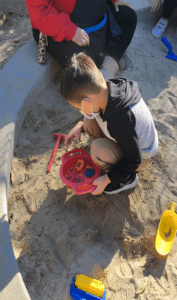 They engage in their outdoor experiences with time, space to discover, and have an opportunity to express their individual uniqueness. Our intentionally designed outdoor classroom supports children with a meaningful whole-child learning approach.
Our children's quest for knowledge about their world is energized and motivated by experiences in the outdoor classroom that naturally leads to literacy. The teachers support their exploration of nature and model important skills that are foundational for later development of reading and writing abilities. Our outdoor classroom provides engaging opportunities for children to develop valuable mathematical concepts through frequent hands-on investigations. It, also, allows our children's social and emotional development to flourish with experiencing care and empathy for the natural world as they interact with peers and teachers. They develop an understanding of social skills, develop confidence, learn from each other, build friendships, develop empathy, become respectful and responsible, become caretakers, and become problem-solvers and critical thinkers. Nature becomes a healing place for them.
This is why learning with nature is such a powerful motivator for holistic development and uses a whole-child approach to skill development. Our children have magical moments in our nature-filled spaces that enrich their lives forever. Our Nature Explore Outdoor Classroom embeds the ten guiding principles that are foundational to high quality outdoor classroom.
• An entry feature
• Sand area
• Mud pit area
• Climbing/crawling area
• Dramatic play area
• Music and movement area
• Large motor skills activities area
• Gathering area
• Nature art area
• Messy materials/building area
• Water area
• Science area
• Garden area/dirt digging area
Envision our children walking into a school where their eyes capture the beauty of nature: trees, plants, flowers, sand, dirt, rocks, leaves, twigs, sticks, birds, squirrels, hummingbirds, butterflies, bees, caterpillars, insects, roly polies, worms, grubs, grasshoppers, and so many more discoveries. All can lead them to countless opportunities for discovery, exploration, creativity, curiosity, problem solving, experiencing the sights, scents, sounds, and textures of nature.
In this natural environment, our children think, question, and make hypotheses as they develop their young inquisitive minds. They have opportunities to show an appreciation for nature by taking turns watering the trees, plants, flowers, and the planters with growing fruits and vegetables. They continue to develop their problem-solving skills, creativity, and curiosity, as they socially interact and play in the sand area and mud pit pretending to bake cakes by mixing sand with rocks, making mud pies, or simply using the sand toys, or pots and pans. They move about with discovery and exploration with the sights and sounds of nature by observing the birds chirping in the trees, finding the birds' nests, squirrels scurrying about and climbing the trees, hummingbirds hovering, butterflies fluttering, and bees buzzing as they make every effort to capture them.
Showing their inquisitiveness using magnifying glasses to discover and find insects and bugs in the dirt and plants, or caterpillars evolving into beautiful butterflies. Using twigs and leaves to create their art masterpiece with paint or another art medium. Playing in the messy area using wood chips and tiny tree cookies to maneuver about or collecting rocks to play counting games. In addition, such a joy to see children dancing as they feel and immerse in the sounds of music in the stage area developing their self-confidence.
It has given our neighborhood and community a sense of belongingness, ownership, and pride. They keep watch over our school during weekends and holidays, willingly donate garden items, and gladly ensure the surrounding school grounds are kept. Neighbors have shared that our yard resembles and resonates that of a peaceful sanctuary. Community businesses have donated to beautify our yard. Our families are very grateful for the opportunity for their children to engage in such meaningful experiences with the invaluable gift of the natural world. Parents and families stay at the end of their child's day to enjoy reading a book under the many trees; take off their shoes to feel the sand between their toes as some have never experienced the beach; gather to enjoy their child's performance on our stage, or simply extend their stay to take pictures or video of their child embracing our natural environment to have lasting memories of their child's early years.
The entire staff wholeheartedly embrace and contribute to our Nature Explore Outdoor Classroom with honor, passion, and pride. Our children are privileged to participate in such an exciting outdoor natural environment that truly fosters a love and respect for nature as our children make connections with nature. Most uniquely, it is a different adventure every day for the little minds that walk through our doors ready to learn and experience the wonders of nature.
This is the Nature Explore Outdoor Classroom at 4th Street Early Education Center, one of the best-kept secret in Los Angeles Unified School District, Local District East.