A Child's Touch
Our site has playground spaces that are hard to match in their size, creativity, and emphasis on nature and exploration. The extent and breadth of our Nature Explore Classrooms allow for learning and engagement with the natural elements starting with infants and expanding with complexity with our older age groups.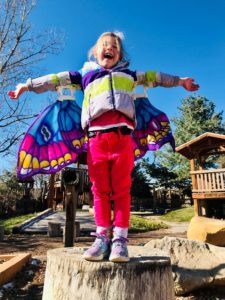 Visitors are astounded at the size and special areas tucked into our space. Whether it is our toddlers experimenting with stacking their nature items and balancing across the log or our Kindergarteners using their reading skills to go on a nature scavenger hunt, each age group thrives by not only getting comfortable with being in nature, but learning from their interactions with it. Our older children particularly love the large pond and various waterfall systems. This year Welby Gardens donated flowers, fruits, and vegetables so that our space would not only be beautiful but a resource for effective gardening for the children and we are so grateful for their community support!
Our Nature Outdoor Classrooms have always been special spaces and places for natural exploration. However, this year, when tragedy struck and the pandemic swept the nation we stepped outside our classroom doors and heard laughter and felt joy. In a time of uncertainty and challenges, there has been nothing better than to see our children healthy and thriving outdoors. Our children, despite seeing masks and feeling change, experienced normalcy, learning, and FUN as they used the safety of our vast outdoor spaces to just be kids.