A Place to Grow
A Place to Grow has had two certified outdoor classroom spaces for a few years now and we have already evolved so much. Both of our classrooms have added mud kitchens that children of all ages enjoy.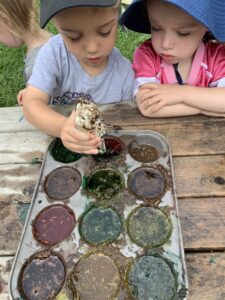 We have multiple hammocks that all the children enjoy swinging and relaxing on. The gardens are growing quickly and we have grown so many vegetables this year already including; potatoes, pumpkins, and squash!
We have many plants, bird feeders, and birdhouses in our space that continue to attract insects and birds. We continue to be a certified Monarch Butterfly Weigh Station. The children love sitting in the lilac bush and watching the birds in the branches over their heads. We have marked trails around our 13 acres of woods, to the pond, and back so we could explore beyond our playground spaces. We are now franchising and looking to share our love of nature with centers all over!