ABC Great Beginnings-South Jordan
We have enjoyed our garden and have been planting plants and seeds, to see what grows the best. We planted seeds and then it rained a lot in the spring and the only thing that grew were two zucchini.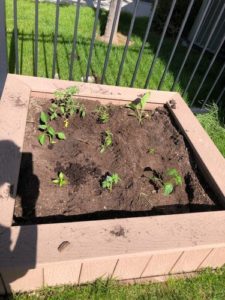 Then we planted plants with the seeds. The plants we were able to produce tomatoes, watermelon, and canteloupe. The peppers did not fair well. The seeds that grew were the radishes and carrots. The other seeds did not grow.
The kids are so excited for the digging area. They love the chance to play and dig in the sand. Sometimes, they pretend that they are digging for gold or lost treasures. In the nature art area, they love to create pictures using flower petals from different flowers and also like to make rock mosaics. They love building in the building area, using blocks and sticks. In the messy area, they enjoy using wood discs, pinecones, wood chips, and other various items.
They gather in the gathering area to talk to each other or turn the logs to explore and see what type of bugs lie under them. They find a variety of bugs, including potato bugs, worms, and slugs.