The Nature Explore Classroom at
ABC Great Beginnings-South Jordan
We are so excited to have finally completed our Nature Explore classroom! The staff and children have already been able to experience learning, exploring, imagination, and creativity.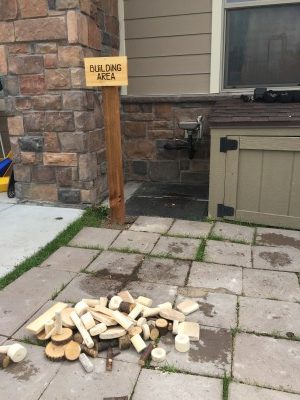 When we began our journey in January, our goal was to create an environment where the children could enjoy nature without leaving the center. We worked on our classroom piece by piece, the children and staff loved each new piece that came. All of our families have been amazing and there has been so much support throughout the process. We had a parent volunteer day that was super successful. The amount of work we got done was so helpful and the families had amazing ideas! Our families not only donated their time, but they also donated materials that we needed for our classroom. It was really exciting and fun to see the child's face when they brought the items in and got to show us what they had found for our classroom.
When we started on our project I did notice that we had a lot of the materials that were needed for the learning areas. When creating the classroom, we were able to use what we had, but also added some new materials. The area we improved the most on was the garden area.  There was not much dirt so we raised the dirt by 2 feet, as well as created the personal garden pots for each child. Two additional gardens were created under our pine trees, where we planted gourds and pumpkins. In addition to improving the gardening area, we improved the music & movement area by bringing the music instruments out of the corner and providing sticks to drum or play the xylophone. In our gathering area we had a single picnic table.  We moved that out and replaced it with logs that many children would be able use.
One of the new areas that we added was the block area. We made a flat area away from where children are very active to avoid accidentally breaking into someone's work. We ordered some amazing blocks that are actual logs. In addition, we added an 8 by 8-foot dirt digging area for the children to be able to dig, play and get messy all while exploring. For our nature art area we added various items such as nature beads, dried flowers, twine, lots of various seeds, pinecones, other materials for children to be able to use. Our messy materials area has been the biggest hit though. The tree cookies, logs of various sizes, pinecones, and rocks have been used the most.
I want to thank all families that helped, donated, and assisted in us reaching our goal. I want to give a very special thanks to Ward O'Brien who volunteered his landscaping experience and for helping me to achieve my exact idea of the perfect outdoor classroom. I want to thank all of my staff for helping me, and assisting in the projects, as well as using the classroom and exploring with the children. I also want to thank my husband, dad, and stepdad for assisting in gathering the materials and all the hard work they put into the classroom. Also a very special thanks to Johnny and Rhonda for their support and for letting us create something so wonderful for our program. Thank you all!

See most recent
Address
724 W Shields Lane
South Jordan, UT  84095
Classroom website
Facebook