Abington Friends School
Our Nature Explore Outdoor Classroom continues to be a magical space. One of the best aspects of it is how we can continually reinvent and reimagine the space.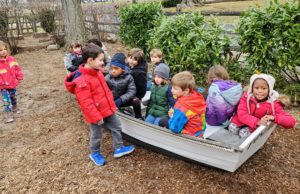 Students do so naturally as a course of their play and exploration, and teachers do so as well. The pandemic has heightened the need for children to have outdoor spaces that allow for them to more safely interact with one another and to engage them in thoughtful learning that outs all their senses to work.