The Nature Explore Classroom at
Adventures Preschool
At Adventures Preschool we believe that children can learn by being actively engaged, by playing and by experiencing.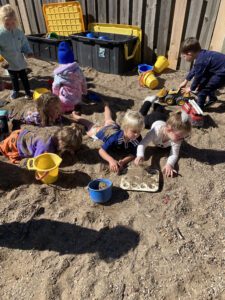 Our journey to creating an intentional outdoor classroom began in 2014 when we started monthly walks to the Iowa State University Arboretum. We observed the preschoolers running and rolling down a hill, exploring under trees and investigating near a creek. We started researching how to incorporate more nature and natural items into our indoor classroom and outdoor space.
Our director/lead teacher attended the 2018 Nature Explore Outdoor Classroom Project/Leadership Institute National Conference and presented information about outdoor classroom certification to the parent advisory board.
Even though we have a small space for the outdoor classroom, we have incorporated two climbing areas, including a preschool-sized horizontal ladder. We have a variety of musical instruments including rain sticks, slap drums, maracas and xylophones.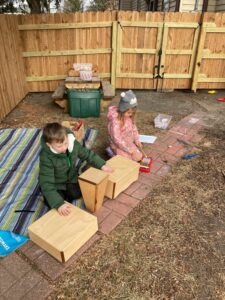 Our messy materials include sticks, tree cookies, tree stumps, wood pieces and fabric to create forts or small private spaces. In the nature art area rocks, pinecones, seashells, acorns, an outdoor easel, markers, journals for each child and clipboards are available daily. Small wood scraps, mini-bricks, magnet blocks and bamboo blocks are included in the building area. We have a water table available and a large sand pit for digging. Our gathering space is under a large maple tree.
Address
2622 Lincoln Way
Ames, Iowa 50014