All About Kids Family Child Care
This year has been an exciting time for our outdoor classroom. In June we broke ground and completed a curving bike path that weaves around the outdoor play area and leads to each of our activity areas.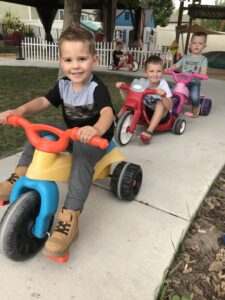 We also added two raised beds for growing vegetables. The children had a lot of fun growing and eating, the cherry tomatoes that we grew in pots on the deck. The highlight of our growing season was the thornless raspberry plants that produced plenty of raspberries for everyone. We even made some jam for the children to share with their families.
A special thanks to Judy Harris at the Utah County Health Department, the CDC, and all the great people at North Carolina State for giving me the amazing opportunity to complete the Early Childhood Outdoor Learning Environments Certificate program.