The Nature Explore Classroom at
AmeriMont Academy
AmeriMont Academy was founded with the unique perspective of blending traditional Montessori philosophies with other proven methods to shape and instill a love for learning in children. An outdoor classroom enhances our program and parallels our philosophies of embracing life experiences and turning them into learning lessons.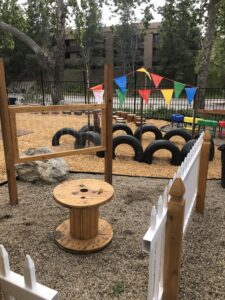 Growing a garden is not an immediate experience, it teaches patience, requires planning, and an investment of time and work. Through this work, gardening becomes meaningful to our children. When children work on meaningful tasks, it builds self-esteem and grows into fulfillment.
Feeling the wonder and seeing the excitement of a child when a strawberry they've been watching grow turns red, the face they make when they smell something refreshing or taste different herbs, and eating their own garden-grown salad, we revel as we watch the children effortlessly learn, feel proud, and priceless experiences of joy.
Our garden area has 4 child-sized garden beds, each with their own opportunities to show off what nature, with some work, can do! Our first and small gardening bed provides fascinating lessons for each child as they smell and taste the different mint plants. Our next bed is our "Salad Garden" where we grow tomatoes, lettuce, bell peppers and cucumbers. Our third garden bed contains herbs such as cilantro, chives, oregano, basil and more. Our students are now aware that they are most likely eating some basil and oregano in their pizza and children that don't normally like salad will taste and talk about the salad they grew together at lunchtime. Bridging the gardens are archway trellises for our sweet pea and vine-growing plants which are draped with colorful imagination fabric between growing seasons. Our last garden bed grows the children's favorites: corn, cantaloupe, pumpkin, and watermelon. Our families love the stories the children bring home about being outdoors and especially the herb gifts for mom!
Our Zen Garden provides a soothing space for children to help with any stresses they are experiencing, it can also double as an archeology dig. The music wall and hidden speaker allows the children to listen to, dance, follow a rhythm, be noisy, learn about tones, and create different sounds from basic household and recycled items.
Our gathering area contains 24 wood stumps from our local mountains with a platform for teacher instruction and group learning. A stage and metal wall in our building area invite the students to create 3D magnetic structures and a plastic house to build. There is a boat made from recycled tires; the children can climb, jump, balance, build, and navigate the boat wheel with their imagination. Our incredible art center offers areas for individual time or several artists to work on a masterpiece together. The dirt-digging area is fun for everyone and our storage area holds all kinds of activities and a vermiculture composting farm.
Clean air, light breezes, and beautiful Southern California weather create an ideal opportunity to have a year-round outdoor classroom. Our gardens are growing healthy food and fulfilled children.

Address
490 S. Anaheim Hills Road
Anaheim Hills, CA 92807