Amy & Kids Co. Family Child Care
"The only constant in life is change." – Heraclitus, Greek philosopher.
Our outdoor classroom is constantly changing to meet the needs of the children as well as our
family, and this was a year of many changes!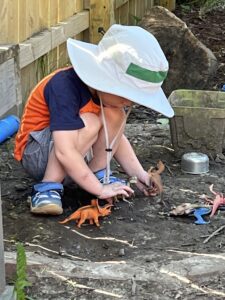 One of the most obvious and attractive changes is the wood fence. Not only does it add shade
and privacy, it also provides a space for hanging new equipment, plants, and decorations to
beautify the yard. The fence was one step toward our goal of replacing plastic items with natural materials. In addition to the fence, we also replaced a shed and child-sized picnic table with wooden ones. They look much nicer and are sturdier than the plastic..
Our art area now features a large chalkboard and a pair of outdoor easels to help keep the
children's creativity flowing. Nearby, a more spacious reading tent provides an inviting place to
relax with or without a book, and doubles as nighttime storage for our outdoor Nugget. Between
the two areas a new wooden cabinet holds art materials, the book box, extra pillows, and other
supplies.
The garden is now surrounded by black metal fence panels which are more attractive than the
previous wire. They allow easier access for the children (and me), and will hopefully keep the
rabbits out better too! The new fencing coordinates nicely with the fence panels in the Music
Area, which was moved slightly and expanded to provide room for more instruments.
The playhouse received a fresh coat of paint in muted shades of yellow, green, and purple, and
the bright red roof changed to a natural warm brown color. We discovered that the purple paint
is almost a perfect match to the nearby wild geraniums!
One of the most exciting changes is the long-awaited cast iron pump! Extra panels from the wood
fence were used to hide the rain barrel, and the ledge that supports the pump also holds a small
dragonfly and potted plant. It's so much more attractive than the previous plastic rain barrel, and
already one of the children's favorites outside!
Finally, a Little Free Library was installed in our front yard. It's not part of our outdoor classroom,
but the children were very excited to see it put in place for borrowing and donating books. It's
generated lots of attention in the neighborhood too – new books appeared within 24 hours of
installation!
Even though this has been a year of changes, we're not done yet. Little by little we're creating the
outdoor classroom of our dreams, and I can't wait to see what next year brings!