Ann W. Wickman
Child Development Center
Our Child Development Center and Natural Learning Environment Playground area are celebrating 11 years in our community this year. We are proud to expose children to the wonders and creative learning through natural materials and outdoor experiences.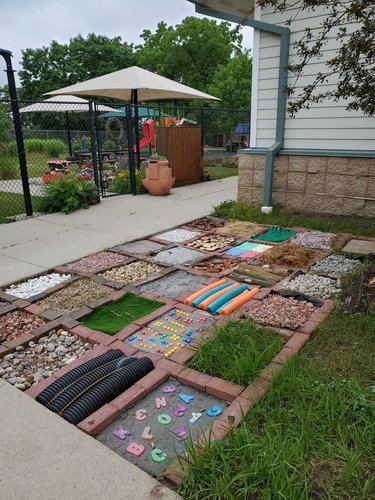 We have seen our children's vocabulary expand as they use rich, colorful words to describe the new Spring flowers. Little ones are growing and testing their physical muscles and strength through climbing obstacles. Cognitive and social development skills are expanded as they explore their outdoor environment with their friends.
Weather permitting, our kids enjoy outdoor learning all year long. Each year we invite the High School to join us in a workday in the Spring to get our classroom cleaned up and ready for the year. We also try to add at least 2 new play areas to our classroom each year, to keep it fresh and new for the children. Included in the outdoor spaces is an herb garden that the children plan, tend to, and then harvest the fresh herbs. They also find new ways to cook and bake with them.