Ann W. Wickman
Child Development Center
Our Nature Explore playground continues to be a wonderful opportunity for kids to explore, engage, and grow through outdoor learning experiences.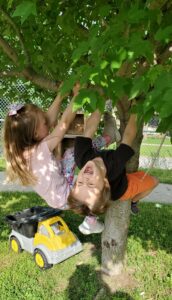 Language skills are strengthened through rich vocabulary as they learn about plants and how they grow. Physical development is explored as the kids climb, run, jump, and enjoy the fresh air outdoors. Cognitive and Social development skills are expanded as they explore their outdoor environment with their friends.
Over the years we have discovered areas that need to be redone, or improved upon, or added to, so the kids get the maximum learning experience. The children's minds and bodies are expanded as they enjoy all the beauty of Spring and the end of the season in the Fall. We are so proud to be able to provide these experiences for our children and families.