Arminta Street Early Education Center
Our Nature Explore Outdoor Classroom is unique and special due to the collaborative work our staff contributes on a daily basis.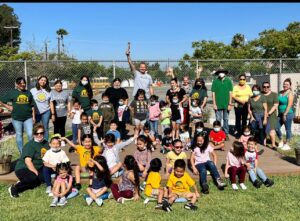 Through intentionality and strategic planning of all designated areas, each teacher/staff member contributes to the best interest of the child. All areas are child lead activities where the adult serves as the facilitator to rich extended play. Ideas, goals and objectives are discussed accordingly to ensure the differing needs and abilities of each child. All areas are addressed accordingly to enhance children's optimal growth and learning.
Staff are cooperative and flexible and work together to arrange clear spatial organization of the site to ensure constant teacher/child engagement. Each staff member contributes their own levels of creativity, talent, and even bring in their own childhood memories of outdoor play to add to the environment.