Ascension Lutheran
Early Childhood Center
Over the last year, our center has entered into a season of transition. We have moved into a new site, added many new team members including a new director, and like the rest of the world, we have dealt with operating in the middle of a global pandemic.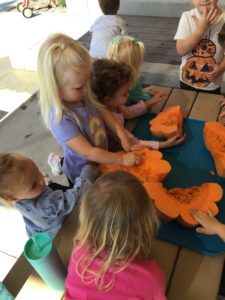 This time of transition has given us a unique opportunity to examine our space and our core values in order to focus on what we truly need to make our Nature Explore Classroom more meaningful and engaging to our students and families.
We have taken this last year to settle into our space and watch how our children interact with each element. Our center has added more opportunities for our children to dig and get dirty with brand new mud kitchens in each space. The mud kitchens allow for our youngest toddlers to our oldest four year old's, to explore with their entire bodies. Conversations happen as the children figure out how much water to add and what they might cook for one another. We have seen some of our most reserved children who begin exploring with only their hands, soon move to placing their entire boding into our mud area. This space gives them permission to get dirty and enjoy in a way that too few spaces allow for now a days.
Our garden areas are multiplying and providing openings for exploration and discussion. We watch as each class plants different vegetable and herbs. They tend their garden spaces with love and respect. As they grow, we hear more and more language about what they are observing. Friends that are reluctant to try new foods have found the courage when it is something they have had a hand in growing. They might not always like it, but they always try it! More than anything, we are allowing our young friends to show us how they desire to learn and grow. These transitional times can be uncomfortable, but we have learned that it is in these times that we all grow the most.