Ascension Lutheran
Early Childhood Center
In an ongoing effort to secure our school site, we recently added a new back gate on the North side of our school. The goal of this addition was to provide our older infant classroom with direct access to our current infant outdoor classroom that is secure. We quickly realized that once this gate was installed, we had the space for an additional outdoor classroom that would not require a large investment.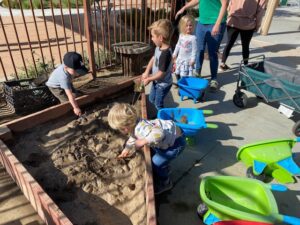 We relocated storage sheds, transplanted a few bushes to other areas of our campus, and installed sod. Our older infant classroom now has direct access to an outdoor space allowing these young learners to free flow indoors/outdoors and easily have snacks & meals outside. This new space is adjacent to our original infant yard and we are being very intentional in it's design as these two spaces will complement each other and not have the same outdoor experiences.
At this point in time, our new gate installation is complete and our new sod has been laid. We are looking to purchase a few outdoor carpets and toddler sized picnic tables. In time we plan to create an area for a mud kitchen and have a couple of toddler sized art easels. We are very excited about this "found" space and are thrilled to be adding an additional outdoor classroom space to our school site!