Ascension Lutheran School
Ascension Lutheran School, Early Childhood Center, and Church has a shared campus goal of not being a campus WITH a garden, but IN a garden.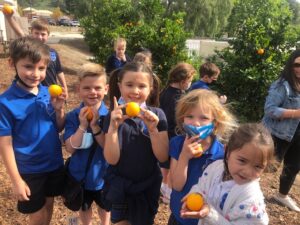 We have made steps forward this year in having the wonder of creation and the wonder of outdoor learning permeate our entire campus. Our school stands out from other schools in our area in that we are Nature Explore certified, have an outdoor curriculum that is academically excellent, and have a nature and garden program that is therapeutic.
We are currently in the midst of an exciting building project where we will be creating an "oasis" in the last developed parcel of our property. This space will include two outdoor classrooms, a dozen raised garden boxes, an outdoor kitchen with a pizza oven, a small waterfall creek, a 20X25 glass greenhouse, a nature center, a campfire gathering area, and an outdoor amphitheater.
Students were recently asked what they loved about their outdoor classroom and garden:
"I love growing tomatoes."
"I feel peaceful when I lay on the blanket under the oak tree."
"I like watching the birds eat at the feeders."