Ascension Lutheran School
This year our outdoor classroom space was used and enjoyed more than ever with unique and wonderful adaptations. With COVID-19 restrictions, we embarked on a new journey in the use of our Nature Explore spaces.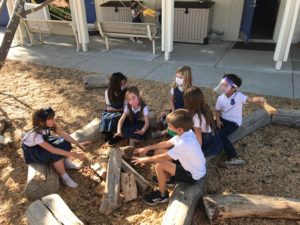 As materials could not be shared between different groups of students, we were limited in what we could provide for our students to engage within our outdoor classroom. This limitation, however, provided rich blessings as we watched the children transform the spaces using their imaginations, creativity and the natural loose materials they had available to them. Students of all ages and grade levels created restaurants, homes with rooms and furniture, secret hideaways, forts, fairy homes, flower shops and so much more. We were surprised and delighted each day by their innovation and pure enjoyment of the space. Our students were the teachers, as they so often are, and allowed us to rethink how we previously used our outdoor classroom space.
We also were fortunate to add a beautiful stage this year to our Music and Movement Area. The stage has been used by our students for makeshift musical performances, a paper airplane launching pad, a post office and a book reading nook, just to name a few. But perhaps most importantly, in this time we are in, the stage has been richly used as a gathering area for our students, school and church communities. On any given day, our students can be spotted sitting on the stage relaxing, chatting or just quietly observing together. Additionally, the stage was a much-needed outside space for our school and church communities to be together, as we gathered and mourned the loss of a former teacher and several former students.
Our garden beds, planted and tended to by our students, thrived this year with edible flowers, vegetables and herbs. Students created single-serving delicious dishes from what they harvested. Our rabbits, in our expanding Life Lab, were kept healthy and lively with daily fresh pickings from the garden beds. Additionally, we added a large, portable greenhouse near our nature center that was used to nurture tomato plants for our annual tomato plant sale. Our tomato plants are grown, advertised for sale and sold by our students. As parents could not be on campus for the entirety of the school year due to COVID-19 restrictions, the tomato plant sale was the first time we were able to have parents together outside. We were excited to have everyone on campus, with nature, once again, being the catalyst for bringing our community together.