Aunt Shelley's Daycare
I always felt that what made our classroom unique was the personal items my husband and I built or created that no one else has. This last year, because my yard is filling up quickly and I am going to school, I had less time to be creative.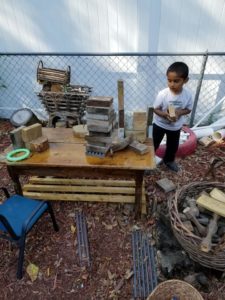 My husband enjoys flea markets and we go to the one in Fairbury yearly, on the Fourth of July. I didn't check to see if it was closed due to the pandemic and to our disappointment it was. We didn't want to have a wasted trip so we checked out the local antique shops.
When wandering around the second floor of one of the shops I spotted a three stand birdhouse made of an old 4 by 4 and barn wood. It stood about 6 feet tall and hosted three birdhouses. I knew it would be perfect in our bird and butterfly area. As I wandered around some more, I found a broken-down kitchen table. I knew in my heart with some love and cutting the legs off it would make a beautiful building table for the building area. I was blessed to find some stick baskets for the building area and some misc. tools and kitchen items for the mud kitchen.
Lastly, I located a metal baby bathtub and stand. The owner had placed some baskets on the bottom for decoration. I looked at it and thought how fun would it be to have that in our art area to hold our art supplies. I looked at the price of 250 dollars firm and debated my decision. The baskets would have been another 75 dollars. I told the owner I was a Nature Explore Classroom and I would gladly pay the 250 dollars if he would throw the baskets in for the children's sake. He had mercy on me and allowed me to take it. I can honestly state we now are the only Nature Explore Classroom with an antique baby bath to store art supplies.
We made the store owner's day as we spent 500 dollars and he stated it was the best month they had since the pandemic thanks to us. I responded, "Sir you truly made my day as when I have my children back on Monday, they will be bouncing off the wall with excitement over their new playground!"