The Nature Explore Classroom at
Baby TALK Early Head Start
From bleak to WOW! Our goal was to connect our students to nature and provide them with outdoor experiences that they might not be having at home.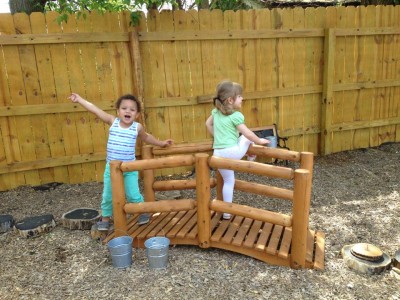 We are an Early Head Start program that serves children 6 weeks to 3 years old. Our original playground was all asphalt and tire chips, not a stimulating space for young children. We formed a committee of staff and community partners that met with the Nature Explore program staff to develop a plan for our Outdoor Classroom specific to our needs. We wanted our students to have daily interaction with natural materials while providing a safe place for our age group. Many hours and volunteer time went into making this wish a reality.
Our space is too large to safely monitor students, so we divided the area into two. The barrier we used makes up different centers. For example, we have a Plexiglas panel for painting along with a chalkboard for the art area. Chains and pipes next to the stage and akambira provide a music area. Shelves and a mud kitchen make up the end of the barricade that connects to our storage shed. The entire outdoor classroom is surrounded by a wooden fence.
Both sides include an open grassy area with a mound and slide, messy materials area, block building area, digging pits, climbing/ crawling stages, and bike paths. Our north side classroom has a log bridge with winding wood stepping stones. The south side classroom is larger and contains 3 raised garden beds, mud kitchen, and a sand box. Along the west side of the outdoor classroom, we have a 12×120 foot deck that allows each classroom an outdoor gathering area. It was made out of composite to enable our babies to safely crawl.
Each classroom area is divided from the other rooms by planter boxes with lattice and herbs. Besides being aesthetically pleasing, it safely allows our children to taste, touch, and smell the plants. The areas also contain 2 small picnic tables perfect for our classrooms since each has 8 children.  The divided areas are wonderful for quiet spaces to read books or do finger plays, as well as eat lunch. Along with the planter boxes, we filled the outdoor classrooms with plants and trees. With the worry that small children will mouth anything, we picked plants that were non-poisonous.
A major focus in Early Head Start is engaging families and the community. We have planned our parent meetings, family play dates, and even special events like Grandparent's Day, Mother's Day, and Father's Day to be on the playscape. In June 2015, we had a grand opening celebration for the outdoor classroom, as well as the 50th anniversary of Head Start, 15th anniversary of Early Head Start, and 5th anniversary of our program. We provide information on the benefits of outdoor play and natural experiences with our families. We are hoping that seeing the benefits of using our outdoor classroom will influence the time families spend with their children outdoors.
Heather Seitz, Education Coordinator


see most recent
Address
710 W Macon Street
Decatur, IL  62522