The Nature Explore Classroom at
Bailey Arboretum
The goal of Bailey Arboretum's new certified Nature Explore Classroom, called The Children's Habitat, is to provide children with a wonderful opportunity for unstructured play time outdoors. Mission accomplished.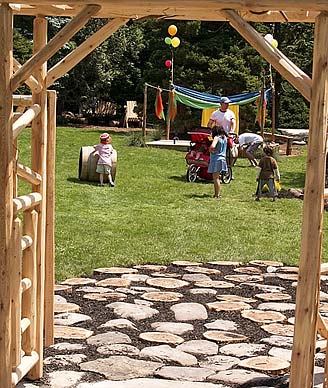 The Children's Habitat includes trees, grass, bushes, flowers and plenty of activities related to nature that will keep visitors busy exploring and creating beautiful masterpieces. Its natural habitat sets the Nature Explore Classroom at Bailey Arboretum apart as materials from the surrounding woods were included in the design. Materials incorporated into the classroom included logs, stumps, and wood chips.
Bailey Arboretum is located in Locust Valley, N.Y., and its Nature Explore Classroom is the first in the state that's located inside an arboretum.
Visitors are greeted by an inviting pathway made of river stone that leads to a wooden arbor at the entrance of the classroom. Near the entryway is a picnic grove with tables scattered about to reinforce a come-and-stay message to parents and children alike.
The classroom includes a music/movement area with a stage and a marimba, a nature art area where children can create beautiful masterpieces, and a climbing/crawling area that is accessible to everyone.

Address
194 Bayville Rd
Locust Valley, NY
11560
Classroom website
Facebook