Bartlett Arboretum and Gardens
Bartlett Arboretum and Gardens is a unique 93 acre property that aims to provide visitors an interactive and engaging experience of nature. Nature Explore Classroom is one of the outdoor spaces most frequented by young visitors.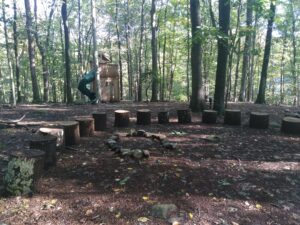 A small bridge from the parking lot leads to Cemetery Trail and a few hundred feet onto the trail in the middle of a birch woodland, hikers can enter and enjoy the Nature Explore Classroom and playground. Using natural materials visitors can let their imaginations drive their activity. Musical instruments and a play structure are also available for interactive or individual play.