The Nature Explore Classroom at
Bartlett Arboretum and Gardens
The Bartlett Arboretum and Gardens is one of Fairfield County's leading botanical and horticultural education resources.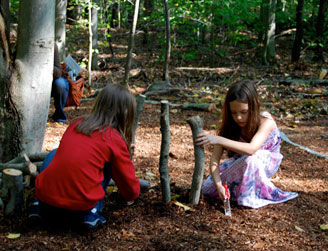 Located about a mile and a half north of Merritt Parkway, the Bartlett boasts 91 acres of woodlands, ten walking trails, themed gardens and collections of notable trees and plantings.
Todd DuPont, Director of Children's Education states, "Bringing the first certified Nature Explore Classroom to the State of Connecticut and to Bartlett Arboretum & Gardens will dramatically impact the young learners in our area. Over the last few years Bartlett Arboretum has made a commitment to the City of Stamford and surrounding towns to connect children to the wonders of the botanical world and nature itself. As a teacher, having the Nature Explore Classroom as part of our property makes fulfilling that commitment easier for me than ever before. Everyone at the Bartlett appreciates the guidance and support provided by Arbor Day Foundation, Dimensions Educational Research, PepsiCo and Keep America Beautiful that made this project a reality."
Using an existing wooded site helped to easily define areas needed for certification. Efforts were made to minimize any clearing that would need to happen and take advantage of existing trees and plants in the area. Dwarf mountain laurels and lashed logs help create a buffer between spaces while flagstone and tree cookie flooring define spaces.
Some old and valuable trees were lost at the Arboretum due to Hurricane Irene, but now will be featured throughout the classroom in the form of benches and borders.
While encouraging children to get outside and play, the Bartlett Arboretum and Garden combines education with hands-on activities while creating future stewards of our earth.

See most recent
Address
51 Brookdale Road
Stamford, CT 06903
Classroom Website