The Nature Explore Classroom at
Bay Presbyterian Preschool
Julie Hazlett, Director of Bay Presbyterian Preschool stated, "Initial funding for the outdoor classroom came from contributions given in memory of Linda Ruscher, a long-time preschool teacher."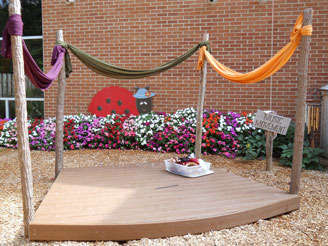 Hazlett goes on to explain, "Linda taught three-year-olds for 31 years at Bay Presbyterian Preschool, an outreach ministry of Bay Presbyterian Church. As an enthusiastic, insightful and caring teacher, she nurtured learning and growth in generations of preschool children. Linda's gentle voice, tender touch and compassionate presence are deeply missed, but her legacy will live forever through the school she so dearly loved. Linda passed away on June 6, 2009. She was a good friend to many and we are thankful that she was a part of our lives."
The final design and construction of the classroom was done entirely by volunteers from the community, church and preschool. Families who have an interest and/or careers as landscapers, artists, engineers, gardeners and woodworkers made this classroom possible. A variety of materials from the region enabled them to personalize the space.
When choosing the plantings for the space, care was taken to pick a variety of textures, shapes and colors along with different blooming seasons to provide color throughout the year. The staff was very deliberate in maintaining a "natural" look throughout the area. Wood was used throughout the classroom in signs, fencing, benches, birdhouses and each area.
The Nature Explore program was a perfect fit for Bay Presbyterian's "learning through play" philosophy.

Address
25415 Lake Road
Bay Village, OH 44140
Classroom website