Beard School
Our Nature Explore Outdoor Classroom at Beard School is approximately 10,000 sq. ft. which includes a planting area with seven raised beds, a greenhouse, a gathering area with three benches, a music/movement area with stage, a playhouse, a nature art area with two tables, two sandboxes, a climbing area, and one nature trail leading through a willow tunnel.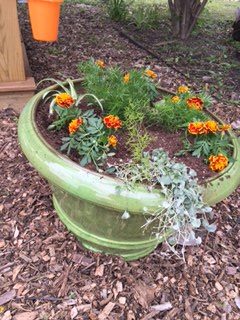 Each area is clearly labeled with 8 cedar wooden signs to help define each area. There are two canopies to shade the nature art tables, a bridge leading through a volunteer made mushroom path and a rain barrel. There are soaking hoses and sprinklers to water the raised garden beds that have been filled with perennials. One of the raised beds has a fairy garden for children to play and explore in.
We recently had our volunteer work day ( May 15, 2016). Volunteers from the Evenston Medical Center, and from Beard School weeded the raised beds, added soil, planted perennial flowers and spread mulch to keep the weeds out. They helped to stain the pillars on the stage, the benches in front of the stage, the bridge, the nature art tables and the benches in the gathering area. A fairy garden was created in a large raised bed. Children can move fairies and garden gnomes around as they learn how to engage in imaginative play activities. There is an area with sand to play in as well. A new play area was also added to the messy materials area in the garden.
A paver road, filled with mulch was added along with cars, trucks and dinosaurs. Volunteers cleaned and filled the two sandboxes with sand and added new toys including buckets, shovels, trucks and funnels. The smaller play stage was given a make-over as well. An outdoor kitchen was painted in bright colors and filled with pretend food and dishes for children to play with, a round wooden table was painted with chalkboard paint and scale with buckets and rocks was created so children can explore the concept of weight. Volunteers also created colorful mushrooms using paint and garden pots. These were placed around the small bridge so that children can walk through this magical path. The entire garden was mulched by volunteers using wood chips that were donated from Bartlette Experts service located in Barrington. A ball ramp was added next to the greenhouse. Here children have the opportunity to use different types of balls as they experiment to see which ones roll down the ramps the best.
Students will continue to plant seeds indoors and transplant them in the raised beds in the spring. We continue to use the garden for many school activities such as exploration of the garden during recess. Students use the sandboxes, fairy garden, outdoor kitchen, ball ramp and outdoor chalkboard. They have the opportunity to climb on logs, walk through the willow path on garden pavers and run in the grass. We also have classrooms that come into the garden to do art lessons, dance on the stage, plant flowers and vegetables, look at insects, let their butterflies go and play games in the grassy area. The school also hosts parent nights, graduation, picnics and the Special Olympics in the garden area.