Bluebird School LLC
At Bluebird School, the children spend lots and lots of time outdoors each day. Our motto is that there is no such thing as bad weather just bad clothing! Rain, snow, or sunshine the children are outside exploring, playing, and learning.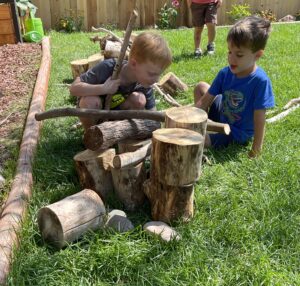 This school year we have expanded 2 areas and added a few new areas to our outdoor classroom space. With some help, we expanded our Mud Kitchen area to accommodate almost the entire classroom at the same time! We have also collected many sticks, stones, and smaller stumps to be added to the building areas of our outdoor spaces.
The new areas the children helped to create this school year are a large digging box and a very fun outdoor music wall. Another important project the children tackled this school year was creating a bird habitat and pollinator habitat in various parts of our class garden and tree areas. It took lots of planning, building, planting, and creating but now Bluebird School is a certified bird and butterfly backyard habitat through the National Wildlife Federation!