Bouncing Bubbles Child Care
Our Nature Explore Classroom continues to be the highlight of this family childcare. Families are excited that their kids are able to explore and discover and create and experience in this space. The interest areas continue to provide lots of learning for all developmental stages.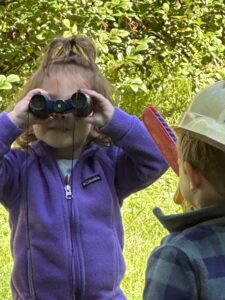 Although the excessive rain this summer was detrimental to our garden, we were able to have lots of fresh tomatoes and carrots. We are looking forward to winterizing the containers and planning for next year's plant!
Our new climbing structure is a huge hit! We have removed the plastic climber and replaced it with the Cottontail Hideaway! The children are able to use all muscle groups by climbing, sliding, swinging, and pulling themselves up by a rope. Because this structure is so big and there are so many elements to it, the social interactions are unique.
We added a water table this year, but hope to expand on our water area next year with tubes and chutes and other tools to explore.