Bouncing Bubbles Child Care
Our outdoor classroom continues to attract families to our childcare. It has also been used as an example to other providers, advocacy groups and state leaders about what is possible for childcare and nature education in family childcare.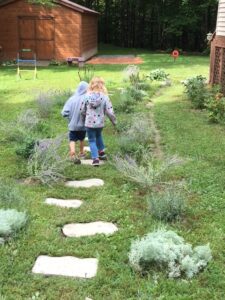 Because we are in a rural setting, surrounded by woods, there are unique elements of the space that naturally lend itself to exploration. Out nature trail is a favorite of the kids. There they can look under rocks for bugs and worms and salamanders. They find interesting plants, rocks and lots of loose parts.
Next year we plan to improve our water feature. We are looking at different options to include in this space. We also have a new piece of dynamic equipment that will be constructed that includes climbing, swings and a teeter totter