The Nature Explore Classroom at
All 'Bout Children Preschool
I have always had a dream to create an outdoor classroom for All 'Bout Children Preschool in Brookfield.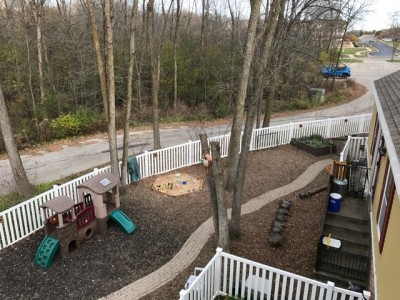 Now that dream is a reality. I have created a place where children can play outdoors and develop all of their five senses. A place for children to touch Lamb's Ear in a natural area, smell lavender next to the sandbox, listen and play with musical instruments, taste foods from the garden such as pumpkins, tomatoes, strawberries, and discover a mirror hidden in the bushes to see their own reflection. There are areas for children to climb, pretend, and gather. I have an art area that allows children to paint outside and create their own masterpieces.
The children of today are not often connected with nature, spending far too much time inside. By making the outdoor classroom a place of exploration the children will (re)connect with nature and all the beauty it has to offer.
Research has shown that children who spend time outside have fewer behavioral problems and are better able to focus. My goal for all the stakeholders involved, including children, parents, teachers, and community members, is to continue to provide a place where children love learning, discovery, and being physically active.
The outdoor classroom wouldn't have been created without the financial support and labor of my students' parents! Every item in the playground was purchased by parents.
The path, the sensory garden, sandbox, and the climbing area were built by the parents. The parents help with applying for grants and wrote letters to potential donors. The most moving letter came from a parent stating, "My son attends All 'Bout Children Preschool. Traditionally, he has been hesitant about going to preschool, preferring to stay at home with me. Last Spring, the teachers, and students planted a vegetable garden. The students were able to help donate, dig, plant, create labels and care for the plants. Suddenly, my son was newly interested in "getting to school" to see if the plants had grown taller. He felt a sense of pride and ownership in something so very wholesome.
The garden brought the spirit of giving and working together with hands-on science and art. Most importantly, it sparked true engagement for my son. This is just one piece of what an outdoor classroom can provide. There is so much more." I think this letter from the parent states the importance of
The preschool is located in a village called Stone Wood Village. When outside, I am stopped by local business owners/community members stating how much we have improved the outdoor play area. They are always asking me what else I have planned. My plan is to add more instruments to our music area for outdoor exploration.
The philosophy of All 'Bout Children Preschool is that every child needs time to explore the outdoors. The children, parents, teachers, and community members help maintain the classroom and continue to be a source of inspiration.

Address
17700 W. Capitol Drive
Brookfield, WI  53045