Brenda's Daycare
Nature, Kids and Puppies all go together!
Not only do children love puppies, but can they learn so much from them! Both children and puppies alike love the great outdoors and all the adventures that await while running, jumping, and playing throughout the Nature Explore Classroom.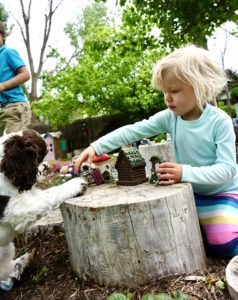 From finding sticks and rocks to leaves and pinecones, anything you pick up becomes the next exciting piece of the journey. But what's more fun than digging in the dirt & sand and jumping in water? Having your fur-friend along for the ride because the benefits of having children and puppies interact in nature together is even better!
Children who have the opportunity to grow up & interact with dogs benefit from:
• Improved language skills
• More self-esteem & confidence
• Increased levels of serotonin & dopamine to boost positive emotions
• Learned respect & responsibility for animals
But most importantly a dog will teach a child unconditional love and acceptance and how to give that in return. As M.K. Clinton once said, "The world would be a nicer place if everyone had the ability to love as unconditionally as a dog."