British International School of Boston
We have continued to develop our outside area to suit the changing needs of the children in our setting. Due to the pandemic, we are taking more of our learning outside.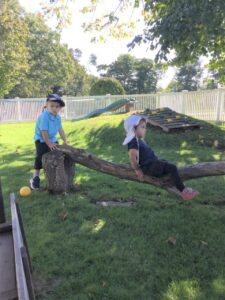 We have continued to involve the children in the development of the garden. They love to help plant and water flowers. The children have free range to choose what they explore and engage in outside, with the mud kitchen and water area continuing to be a popular area! The children enjoy exploring the different sensory materials our garden has to offer and use the different size logs to develop their physical skills.
We make good use of our large green campus and take our toddlers for walks around the school. They enjoy the challenge of walking and rolling down steep banks and exploring the varied wildlife that can be found at our school. The turkeys are always a highlight of a nature walk!