Brooklyn Early Education Center
At Brooklyn Early Education Center, our Nature Explore Program allows creativity, curiosity, and exploration to be at the center of our children's learning. Our students are interacting daily and creating memorable experiences surrounded by natural materials and staff who are eager to assist our young learners with their outdoor investigations.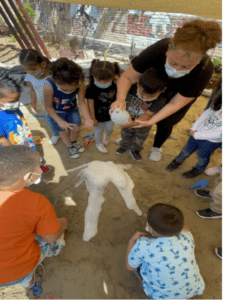 Although the families in our program are not yet able to experience our outdoor classroom in person, they have shared thoughts their children have shared with them which are as follows:
Child #1: "When I play in the sand I feel happy because I'm with my friends outside." -Ezequiel
Child #2: "We went to Nature Explore and I ate sour fruit and I love it." -Alan
Child #3:"I like my school because it's like the park!" -Emily
These are a few of the phrases and words that they shared:
"Independence, imaginative, playful, free, and love." -Pedro
"It warms my heart seeing him so focused on an activty because it's hard for him to engage." -Rocio
"I feel very happy and proud of seeing the growth in my son." -Lorriane
"I love seeing my son participating and learning different things." -Roberta
The experiences that have come from our Nature Explore Outdoor Classroom have allowed us to form countless connections with our familes throughout the years. Our school has seen generations grow and have led to a majority of returning familes in our program and we cannot wait to continue to use our Nature Explore classroom and build new stronger bonds.