Browns Family Childcare, LLC
My name is Lindsey Brown. I am the owner and teacher at Browns Family Childcare, LLC. Over the past year we have continued to enjoy our outdoor classroom. Since my Nature Explore certification in 2021, I have had the honor of being a part of some amazing opportunities, including being a recipient of the Terri Lynne Lokoff Teachers of the Year, a presenter in two webinars where I showed how I incorporate nature both inside and outside my classroom, a facilitator for the Create Healthy Futures program and I am honored to say that my homemade nature-based preschool curriculum got approved through the state of PA.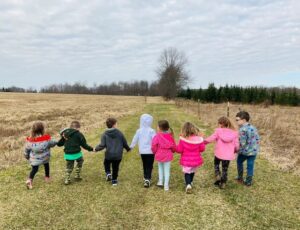 I have continued to gain more knowledge and experience in nature-based learning through both professional developments, as well as trial and error in my preschool program.
I am happy to say we have added a birdwatching area complete with hummingbird and backyard bird feeders, bird houses, a bird bath, a sitting area to view and binoculars and clipboards to document observations!
This spring we are adding a butterfly and pollinator garden area. a sand play area, and a 3 tiered water play table to our outdoor classroom. This summer our camp will be nature themed. I am thankful for families donating items for both my indoor and outdoor nature-based play areas! It is a pleasure to be able to offer Nature based learning to my preschool students and families!