Browns Family Childcare, LLC
In the past year I have gained more knowledge of the benefits of nature and I had the pleasure of sharing my passion with others while speaking at the PA Farm to Child Nutrition Summit, The Pennsylvania Early Childhood Summit, and the PA Head Start Association Conference on farm to ECE and nature-based learning.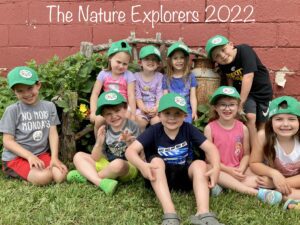 During the spring of 2022, my husband built a two-tier water table for our outside classroom. This addition was a huge benefit to our outdoor classroom. Children enjoyed doing sink or float investigations, making dinosaurs' habitats, dumping & scooping water, and even cleaning rocks like miners do!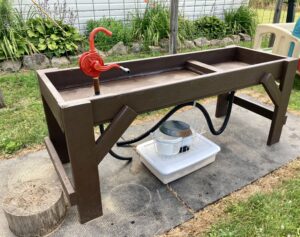 We spent most of our summer days catching frogs, and worms, and visiting our milkweed gardens for caterpillars, butterflies, bees, and other pollinators. We collected monarch butterfly eggs and caterpillars and raised them in our classroom as an effort to help save the monarch butterflies. The children named all the butterflies and helped to set each one free.
During the colder months we enjoyed nature hikes and bird hunts and even a color of the rainbow hunt and fungi hunts around the property.This year we are growing a sensory herb garden, and vegetable garden with an arched trellis and a sign saying "The Nature Explorers Garden- Grown with love". We are adding a brand new art easel to our outside classroom and calling it "Art in Nature". It will accommodate 4 children at a time and will be nestled in between two blueberry bushes when being used.
Nature is a free learning tool and every child deserves the chance to learn through exploring our natural environment with everything it has to offer. We have a reciprocal relationship with nature and I absolutely love getting to spend my time in nature inspiring our youngest learners.