The Nature Explore Classroom at
Browns Family Childcare, LLC
I am a preschool teacher at my Group Home Childcare facility in Franklin, PA. I have a passion for spending time outside. Over the past 9 years, I have found a connection between children and nature. I love to see children thrive. The benefits I've seen when children spend time outside are: they are happier, calmer, are more creative, have a higher interest in real-life objects and experiences and are more empathetic.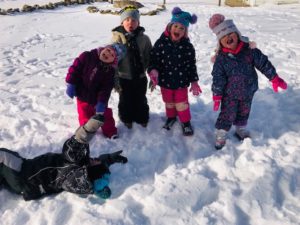 I myself find that when I get to spend time outdoors as an Early Childhood Educator, I feel more alive, awake and happy and less cooped up, stressed and anxious. When you combine nature with happy kids and adults, wonderful things happen.
At Browns Family Childcare, LLC children get opportunities to plant, harvest and eat vegetables, herbs and fruits, see woodland creatures, feel, see, smell and pick many variations of flowers and make friends with butterflies, bees, worms and other living things. They get to explore our beautiful farmland and enjoy the beautiful gifts of nature on a daily basis. In the future, I plan to update my outdoor classroom with more natural materials. But for now, I think I have a good start.
What makes my Nature Explore classroom unique is that it is designed and named after my childcare kiddos: The Nature Explorers. After all, it is their outside classroom. My goal is to instill my passion and love for the outdoors into each one of the kids in my care. My outdoor classroom and the opportunities I provide for children in my care are unique because it separates me from any other early childhood setting in my area.
Learning about nature and becoming educated about it is important to me. I participate in extracurricular educational activities and cohorts that I am particularly passionate about such as Farm to ECE, Pennsylvania's Harvest of the Month, Keystone Healthy Kids and CACFP initiatives.
I would like to say a few words about my biggest supporters and my reasons for doing what I do.
To my husband Jasen, you are always there to cheer me on, pick me up when I fall and show me reasons why I should never quit. You see things in me that I don't. You are my number one supporter. You stand on the sidelines and cheer me on, yet you are never too far away that I can't count on you.
To my daughter Kylie, you have always been an advocate for me with my job and you are the reason behind my successes. I want to show you how to work hard for the things you want. Thank you for always showing me support and for all your help.
To my step-son Jacob, thank you for all your help with the kids in our care and all the support you've given me over the years through the good and the trying times my job has given me. To my step-son, Austin, thank you for helping with the kids in our care. You are like a brother to the kids. You teach, joke and play with them. You are a great big "brother."
To my mom and dad. Thank you for showing me how to be a productive member of society and to work hard at what I do. Thank you for supporting me and cheering me on always. To my daycare families. Without you, none of this would be possible. Thank you for sharing your family with me and entrusting me with your most prized possessions. To my daycare kids, thank you for showing me how to have fun and for teaching me things adults can't. I love all of you and I am forever grateful for the support you've given me.
A few words from my current daycare kids:
"My favorite thing about outside is walking and exploring." ~Alexis
"I love the play area." ~Palmer
"I like seeing the pretty flowers." ~Korie
"I like running." ~Hailey
"My favorite things are building blocks and swinging." ~Maxx
"My favorite part of being outside is the sun and playing with my friends." ~Elliana

Address
Franklin, PA