Bundle of Joy Nature Preschool Childcare
Bundle of Joy Nature Preschool Childcare in Hidden Valley Lake received a Tier 5 rating on the Quality Counts California matrix, which measures the quality of child care programs in California. A Tier 5 rating is the highest achievable.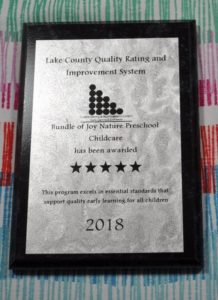 Bundle of Joy Nature Preschool Childcare is the first family childcare preschool to receive a Tier 5 rating in Lake County. The Quality Counts California matrix measures the effects of the Quality Rating and Improvement System (QRIS), a voluntary statewide program introduced into Lake County in 2015 through the Lake County Office of Education. In January, Gretchen Norrell, the Children's Garden Coordinator of the San Francisco Botanical Garden Society visited our site to tour a Nature Explore Certified Outdoor Classroom.
Our ducks hatched 11 ducklings in our garden area. We moved the ducks into the winter garden to clean up the dying vegetation and to control the winter weed growth. Ducks do a fabulous job! Ducks are used in vineyards to maintain their weed and bug control. When you observe duck behavior you can see their dinosaur heritage.
Curriculum abounds naturally in the outdoor classroom from a simple question; What other creatures hatch from eggs? Dinosaurs! Turtles, birds, lizards, fish, crocodiles, and snakes to name a few more.
Bundle of Joy is beginning our 5th year as a Nature Explore Certified Outdoor Classroom. As we move forward, we will continue to look back, always learning about the changing world around us. Our children age into their next developmental stage as they move on from our nurturing environment to explore new possibilities while babies arrive to begin the circle anew. Each child experiences nurturing and exploration from Bundle of Joy, a caring community for children and families.