Busy Bees Daycare
My name is Tonya Fisher and I am the owner/lead teacher at Busy Bees Daycare. With over 17 years experience in Early Childhood, my passion has allowed me to create a space that promotes natural learning and play all in the same environment.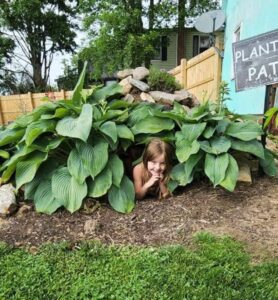 What you can expect to find when you walk through our gate is a natureland to openly explore. From crawl through tunnels to teepees topped with vines, your mind can lead you anywhere.
Over the past year we have continued to learn from and build on our outdoor classroom, adding additional mud kitchens for all ages/sizes and fairy gardens to build the imagination.
We were honored to pilot a program with the Pennsylvania Keystone Stars Program, "loose parts play" where we put our minds to work playing with "loose parts" (pine cones, wood cookies, pots, pans, etc)
My sincere thanks goes out to our parents and the community who are continually donating to our program. But above all, my biggest thanks goes to my husband Ron, who hears my vision and makes it happen.
Coming Up: Families will be building bluebird boxes and researching the placement.
Hear what some of our parents have to say about our outdoor classroom
"The outdoor space at Busy Bees is a phenomenal learning and play space for children. With various stations, settings and learning centers, children learn through play and don't even realize they're learning." H. Orndorf
"My daughters could not love the outdoor spaces more. They have the space and the freedom to play and explore in natural places and I have seen so much growth in them because of their access to the outdoor spaces at Busy Bees." L. Caprio