The Nature Explore Classroom at
Busy Bees Natural Learning Center
My name is Tonya Fisher and I am the director at Busy Bees Natural Learning Center. We are located in Central Pennsylvania and surrounded by some of the most beautiful nature in North America. I aspire to bring every bit of that nature into our backyard and share it with the children of our community.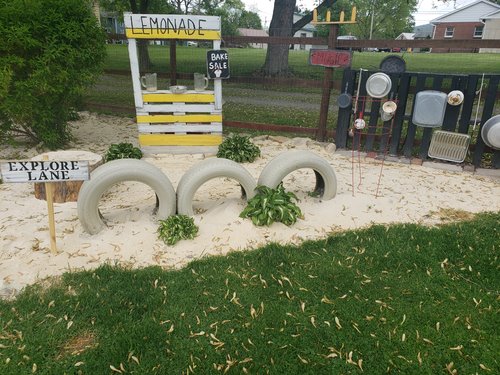 Over the past 15 years, I have built Busy Bees to be a place where children can learn through play both indoors and out. "What can be learned indoors can be learned outdoors"
One step into our Natural Learning space and you will see what nature-inspired learning is all about. From the worm farm to our amphibian habitat, we take pride and bringing nature to life. Dirt digging, mud painting, log building, sand structures create hours of unstructured play.
Tree stumps and teepees from limbs make up our resting areas where children can congregate with one another or curl up with a book so graciously donated by our local Kiwanis Club and the Centre County Library.
A short walk into our "classroom" you will find our amphibian pond where we house bullfrogs, fish, salamanders, and many visitors that utilize the water. From rabbits to woodpeckers, we accept all forms of wildlife into our program.
A few hops, a couple of skips, and a crab crawl down the planting path is our Explore Zone. With handmade climbers from tires and playhouses from pallets, the children use their creativity to enter their own creative world.
Passing through our "speeding zone" and entering the "watering hole" and "building lane" the children will spend time in our DIY mud sink as well as building with logs and limbs. With water from the sink, the children care for their fairy garden as well as the other child-planted vegetation.
From one end of our natural wonderland to the other, you will find trees, bushes, vines, perennials, and annuals all added to enhance the environment and promote the children's interest in nature. Amongst this foliage hides a variety of different birdhouses built by the families and members of our community.

Address
Blanchard, PA