Butler County Community College
Children's Creative Learning Center
"Green Garden Park" is nestled among the rolling hills on the campus of Butler County Community College which provides the perfect landscape for nature-based curriculum.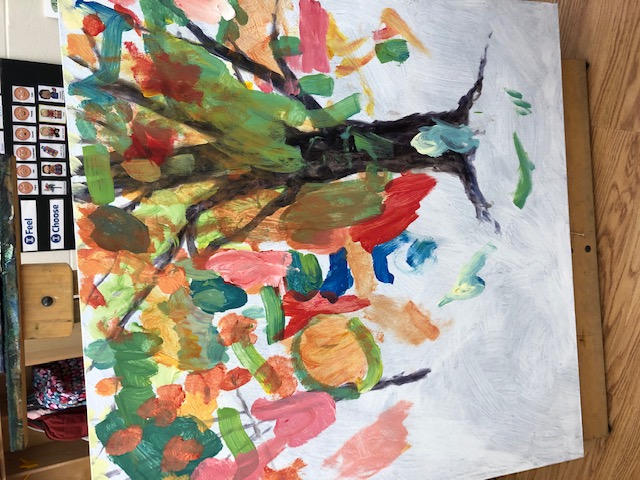 This space provides children the opportunity to immerse themselves in nature while learning valuable academic and social-emotional concepts. Children can sit on tree cookies, build with large wooden blocks and ramps, rake leaves, dig in the dirt and sand, observe insects, pump and pour water, and construct nature scenes. Extending the learning beyond the four walls of the classroom, which is designed in coordinating natural colors to allow for "visual flow" has given the children more meaningful and varied learning opportunities. With imagination and a variety of materials, children can engage in creative learning experiences with nature indoors and outdoors.
Our partnership with BC3's Art Department is one such experience. Because we are fortunate to have nature all around us, we thought is was the perfect opportunity for creating an art curriculum that provided the children with hands-on learning opportunities that incorporated learning experiences, nature, and art.
Through a literature-based approach, the children were able to connect books to nature and art. One of the art pieces created was a 3′ X 3′ acrylic painting of a fall tree. The children participated in many discussions with a BC3 art instructor who asked them to explore their feelings regarding life in Pennsylvania during autumn. After reading the story Tap the Magic Tree by Christine Matheson, the children set out on an outdoor adventure to find evidence of fall. They looked at what was happening to the trees and learned about the term sky holes, which provoked a great big discussion and made for an interesting few months as we were able to view the trees from our windows to observe how the sky holes were changing as the weeks past and fall turned to winter. We discussed color mixing and how the colors made us feel as we used them to paint our interpretation of a fall tree.
Another favorite project was "collages by nature". We noticed that the children were fascinated with finding natural materials in Green Garden Park. You could hear them burst with excitement as they found small treasures like acorns, pinecones, leaves, twigs, helicopters, and seed pods that had fallen to the ground. As the children collected these items, we discussed why and how they got to the ground and decided that we should do something with them and so began our learning experiences about nature and the aspect of art collages.
In seeing the joy this learning experience brought to the children, we decided to make the partnership with the art department an ongoing project. The children are able to meet with the art instructor on a weekly basis to learn about how nature and art go hand in hand. An outdoor easel was added to Green Garden Park to offer an outdoor art experience which provides for rich learning opportunities offering true freedom and exploration!