The Nature Explore Classroom at
Butterfly Hill Nature Preschool
Beautiful, magical, and alive with possibility; the outdoor learning space is the signature feature of Butterfly Hill Nature Preschool. It reflects the belief that the natural world is full of wonder, waiting to be discovered, and an important teacher. Children and teachers spend a large portion of the day outdoors in this space.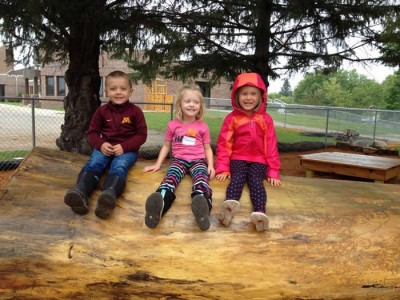 The Butterfly Hill Outdoor Learning Space first welcomed children in the fall of 2014 with spacious open areas mixed with a variety of mature trees. Pathways connect key points of interest, including climbing platforms, a stage, bridge, twig hut, mud kitchen, sand and dirt areas, a nature art area, and more.
These features reflect the tremendous community support and effort of volunteers whose faithful work ensured that safety requirements were met and a variety of discovery and exploratory options greeted the first classes of excited and engaged learners. The community has been very generous with wonderful donations. The marimba, tricycles and snowshoes have all have resulted in hours and hours of busy and active fun.
There is texture underfoot in the winding network of packed crushed granite and concrete paths, areas of grass, sand, dirt, soft wood chips, pine cones and needles.
Big open spaces offer an invitation to run, jump, whirl and roll. Cozy little spaces beckon with the promise of a friendly nook found in a hollow log tunnel, a twig fort, under the wooden bridge or a sheltering pine.
This space is inhabited by butterflies, birds, squirrels, frogs, ants, worms, dragonflies, insects, an occasional rabbit, and even a few cranky hornets in the fall. Sand, water, dirt, rocks, leaves, tree cookies, sticks, logs, stumps, pinecones, and pumpkins just begin the list of materials to handle, design, reimagine, and create.
The setting, materials and equipment all contribute to the experience, as does the staff commitment to a philosophy of providing ample time for learning through play and creating an environment that encourages discovery, experimentation, and reflection. Facebook postings report and celebrate sightings of teamwork, investigation, exploration, bargaining, problem-solving, and community building.
This space continues to grow and evolve with the promise of what is yet to come. Plantings and gardens will soon emerge. There is a pervading sense of ownership that excites both the children and staff who work, play and grow there, the volunteers who take the plans to the next level, and the families and community who experience pride and satisfaction from shared ideas and learning to work in concert.
That's the human story. But this piece of earth is alive too and continues to write its part of the story. Dandelions parachute forward, squirrels bury acorns, pine cones scatter. . . The story continues.
Julie Dahlseid, Preschool Director

Address
2210 6th Ave. E.
Alexandria, MN 56308
Classroom website
Facebook