Calvary Chapel Preschool-ABBA's Garden
In an outdoor setting, children can discover the wonders of God's creations through hands-on planting vegetables (and eating them after they grow), digging in dirt, water play, log building, and using their critical thinking skills in our STEM playhouse. Meanwhile, they experience personal enrichment via developing friendships, physical growth, and imaginative play. We see Abba's Garden as a continuation of our indoor classrooms but with more of a "grassroots" feeling.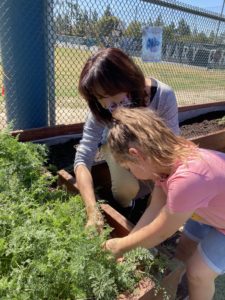 ABBA's Garden is an outside setting that is not only a play area but an educational venue introducing the importance of nature in an education system. It is an area where children can show their creativity and imagination through play with loose parts and a natural environment. It also offers an excellent opportunity for teachers to observe children's motor skills and social-emotional growth. Many times bringing an indoor classroom to an outside classroom will enhance curriculum in more than one area. The indoor classroom can put restraints on the activity because of space and noise control. While the outside classroom has freedom of space and takes away the restriction of noise.
Risk-taking is also an advantage of the outside classroom providing more opportunities for discovery because of the natural objects such as trees, boulders and rocks for the children to experiment during play.