Calvary Chapel Preschool-ABBA's Garden
ABBA'S GARDEN is one of the main selling points for our preschool. When future, as well as, existing parents see the interaction the children have with nature in the outdoor classroom, they see the enrichment that the children experience. This is a place where the children can excel outside of the normal structured classroom.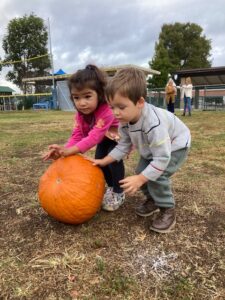 The social-emotional skills are developed here by having the children engage in activities with others outside of their classroom. Parents have told us that the children express that ABBA's GARDEN is the highlight of their day! Gardening, observation of insects, seasonal changes in the planting of various fruits and vegetables and helping to maintain the classroom itself increases the curiosity and knowledge of nature and what God has provided for us. Many of the discussions and activities that are presented in ABBA's GARDEN are continued in the inside classroom with story telling and dramatic play. We encourage parents to donate plants, soil and other supplies to help maintain and supply our outdoor classroom. The children are responsible for cleaning up the garden after they have used it which develops responsibility.
We are fortunate to have some trees in our garden which we include in many of our projects using branches, leaves and the fruit from these trees. We also have a good size area for our garden where the children can plant and water the plants. They also have an opportunity to taste what they have grown.
For the amount of space we have, we are able to use all of it by specifying different areas such as a Mud Area, kitchen area, playhouse with STEM activities, bike riding space, gardening, and an art area where we can also display their art projects dealing with nature.