The Nature Explore Classroom at
Calvary Christian Preschool
We would like to thank the school board and the head of school for the support in creating the outdoor classroom. Thank you to all the teachers and assistants dedicating time to making the space a successful area for learning nature and exploring the outdoors.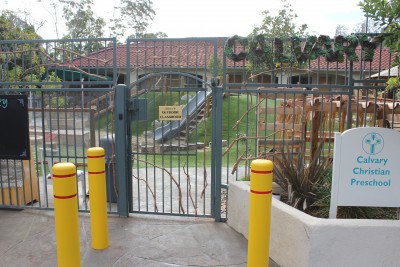 Our outdoor classroom is an environment where children can have direct contact with nature and explore the many dimensions of the great outdoors. Our space was redesigned to offer a multitude of spaces for children to explore and move.
Our areas include:
Entry feature– we have a new design with wood on the front gate and a new "Welcome to the Outdoor Classroom" sign.
Action Area– this is an open Area for large-motor activities which includes a hill and valley.
Climbing Area– children can use our rock wall and ropes
Messy Materials Area– features large logs that children can move, as well as pinecones and wood cookies.
Building Area– where our children build with blocks and boards.
Nature Art Area– where we provide clipboards for nature sketching and includes a clay table for the children to create.
Music and Movement Area– here we rotate musical instruments such as drums, xylophones, jingling keys and bells.
Garden Area– where we are growing plants such as strawberries, carrots, peas, tomatoes and kale.
Gathering Area– we have places to sit on the rocks in front of our gazebo.
Sand Area– for digging play.

Address
701 Palisades Drive
Pacific Palisades, CA 90272