Cathedral of the Risen Christ School
At the Cathedral of the Risen Christ we have an outdoor classroom that allows our preschoolers to learn to play in the outdoors. It also allows children to not rush into education. We aren't concerned about reading or multiplication because we know the academics will happen. We want to foster the curiosity that young children have and allow them to learn and explore with the beauty that God has created.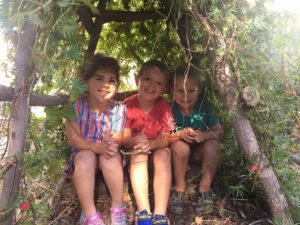 Children have the opportunity to play with each other, learn about nature, and engage with each other in a relaxed but structured environment. Our outdoor classroom has tree stumps, bamboo fencing, wall vines, garden beds, interesting native plants, worms, and dirt which are all the items kids can be creative with. This allows them to use their imagination and create play!