The Nature Explore Classroom at
Cedar Glade Family Learning Center
From the beginning when we opened our in-home center, we created an outdoor play space that was kid-friendly.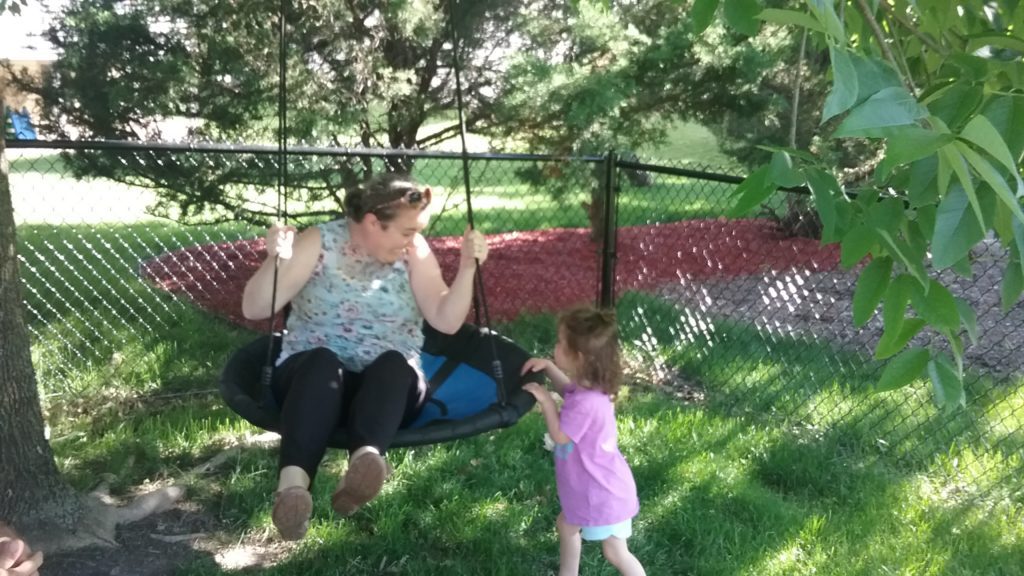 After working through the Nature Explore program 10 Guiding Principles we were able to create a much more engaging space. Because of some of the changes/enhancements made to our outdoor classroom, the children now refer to the space as the backyard park. We love giving the children a say in choosing where we spend our outdoor classroom time for the morning. They have several nearby parks to choose from, all in walking distance. A neighborhood pond where we watch the ducks, and our backyard park. The undisputed choice… Backyard Park.
Our families were instrumental in these changes. They were ready to pitch in with any work needed in prepping the garden, building our garden box, and taking yard waste away. Neighbors even pitched in with transporting logs from a fallen tree for our climbing area and moving garden soil from the driveway to the garden box. Sometimes we would come home or open the front door to find some treasure a neighbor had left for us to enjoy; a bird's nest, a hanging basket of flowers.
As amateur rock hounds, our nature play space had to include rocks. A member of our rock club donated two totes of rocks and minerals for our Rock Garden. Each child got to choose a specimen from the garden to take home. The children use their magnifying glasses to look more closely at crystals, fossils and patterns in the rocks.
It is a pleasure watching the children explore, investigate, use their imagination, collaborate and problem solve. So often when we are in our outdoor classroom, time ceases to exist.
Address
McFarland, WI 53558