Cedar Valley Preschool
and Child Care Center
It's Magic!!! Our Nature Explore Certified Outdoor Classroom is such an experience—–from a family's first visit "oohs and aahs," to children's engagement in the variety of "hands-on" activities, to sampling all the different centers, to having "jobs," helping care for the shared environment, experiencing seasonal changes, and so much more!!!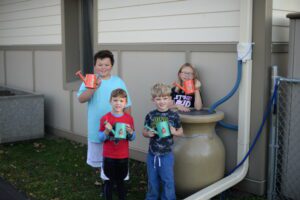 Our centers include: climbing area, gathering area, building area, music and movement area, messy materials area, science and art area, digging area, sand area, birdfeeding area, vegetable garden, and butterfly garden.
Many loving hands support the environment including: Master Gardeners, John Deere volunteers for major annual maintenance work, children's and staff family members, Girl and Boy Scouts, community members and neighbors. In-kind and monetory donations, as well as grant funds, provide ongoing materials.
As the world around them changes, the children are growing and changing. Fresh air, sunshine, and exercise are wonderful for children, but there is so much more! Engaging in nature experiences assists children to acquire a new view of their world and helps them to grow physically, emotionally, and intellectually. It offers children with unique learning styles an opportunity to focus and thrive through the "hands on" activities in a completely new way.
Families and program visitors are amazed at what the children can share regarding growing flowers and vegetables, taking care of our bird friends, supporting bee friends and attracting butterflies! Staff are excited to see the children's growth and hear their comments! The children and the environment continue to grow and flourish!
It's Magic!!!