Center for Family Resources
Our young students have continued to enjoy the outdoor classroom. Among their favorite activities are balancing on logs, playing the marimba and making mud pies in the mud kitchen. Many of our young scientists like to collect insects and other natural artifacts and then examine them under a microscope or magnifying glass in the classroom. This allows for so many learning opportunities.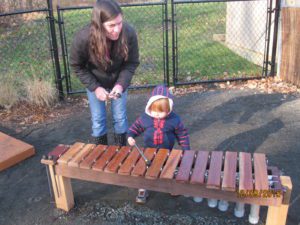 Our Children's Garden that is adjacent to the outdoor classroom serves as a seasonal garden that the children learn about fruits, vegetables, harvesting and composting. They particularly enjoy gathering their fruits and vegetables and then having them at lunch time. This is a great springboard for good nutrition and fighting childhood obesity.