Chadron State College
Child Development Center
Our Nature Explore Classroom was the perfect place to host our very first Farmer's Market this summer. The children learned what a Farmer's Market was and then worked hard for a few weeks creating their own product to sell.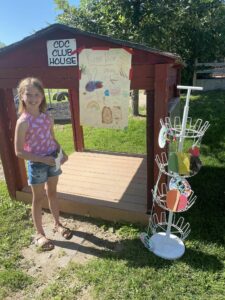 The children picked a spot outside in our Nature Explore classroom to set up their booth with their products. The Farmer's Market was opened up to the children's family and friends, the Chadron community, and the Chadron State College community! Buyers were given "Keri Bucks" to shop with when they arrived at the market!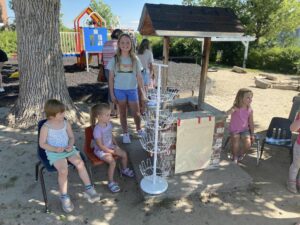 The children had made posters and price signs for their customers to see as well! The children sold items like bracelets/necklaces, room decorations, games, paintings, dream catchers, decorative rocks, toys. etc. The children were responsible for talking with each customer and making change if needed when a purchase was made. The children were then encouraged to visit their friend's booths to shop if they wanted! It was so fun to have family, friends, and community members support our kiddos during this fun event! We had many customers come that had not been familiar with our outdoor classroom until this event and they were so excited to see what we had to offer!