Chadron State College
Child Development Center
This last year as we welcomed and enrolled our new children and got to know each one, we quickly recognized through observation and assessments that this new group of children was under-developed in their motor skills. Though the level and reason for the motor skills varied, we knew that physical development was going to be a primary focus for our teaching staff this year. Both gross and fine motor skills are practiced throughout all parts of our day, but we took the practice to another level by really engaging the children in those skills outside.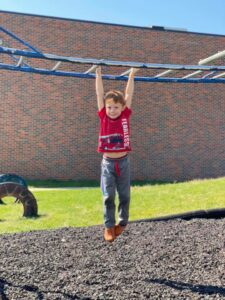 Our Nature Explore Classroom already naturally supports physical development with the climbing rocks, monkey bars, fire pole, digging areas, building areas, music and movement stage, etc. but we were also able to create more opportunities outside to enhance the children's physical skills. We began to create multiple obstacle courses which challenged the children to practice skills that they sometimes wouldn't explore on their own. They were walking on logs, balancing on tree stumps, weaving through bushes, crawling under and going over bridges, going across monkey bars, jumping, hopping, etc. The children loved the courses and kept getting faster as they gained more skills and confidence. We kept adjusting the course to incorporate new skills and each time, the children took on the challenge and competed with themselves and their peers! It was amazing to see the growth in their physical development by the end of the year, knowing that our outdoor facility was a major part of their successes.
Not only did the children's gross motor skills improve, but so did their fine motor skills. The children drew with chalk on the sidewalk, participated in nature scavenger hunts, gathered and collected small items such as rocks, bugs, sticks, etc. They engaged in sand writing with sticks, stirring mud and dirt, digging, picking grass and flowers, created nests and patterns with loose parts, etc. The children were practicing their fine motor skills each day without knowing it, they were just playing! The winter months also enhanced their skills as they rolled snow balls, built forts, and dug in the snow. All of these fine motor skills also enhanced their other areas of development such as self-help skills of buttoning, zipping, using utensils, pouring, opening and closing lids, and brushing teeth. We also saw growth in the children's writing and hand-eye coordination.
Nature and our outside environment played such a huge role in the physical development of our kiddos and we will continue to use this crucial tool every year to help our children reach their goals and achieve success!