The Nature Explore Classroom at
Child Development Institute's
Early Learning Center
The Child Development Institute Early Learning Center Nature Explore Classroom was designed by a Nature Explore architect/educator team in January of 2011.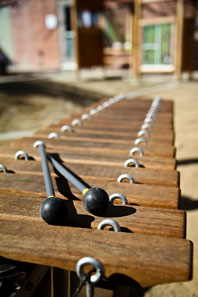 Located in the back parking lots of the CDI Early Learning Center and a renovated library in Canoga Park, the area has been developed for extended play and learning. A six foot fence surrounding the classroom ensures the safety of the children in this dense, urban neighborhood which is located next to busy streets. Quality, natural materials are used throughout this very open and visible space. Plantings include fruitless olive trees, Carpinteria California, Rhamnus, Sisyrichium bellum. All-accessible garden beds have vegetables, herbs and other edible plants.
With high-quality components and many features made of Redwood, all items are durable and low maintenance, chosen to withstand weather and wear. With input from the children, staff, teachers, volunteers and the Garden Committee, changes were made to meet the needs of the children using this beautiful space.
Many events and programs are planned throughout the year to help with developing and maintaining the center and the outdoor classroom in addition to cultivating community involvement. Events include planting days, benefit walks and the development of community action groups. These are also great ways for participants to learn about the outdoor curriculum offered at the Center. Since the beginning of the Child Development Institute Early Learning Center, Nature Explore has always been a part of the vision for creating a space for parents and caregivers to play and explore nature with their children.

Address
6340 Variel Avenue
Suite A
Woodland Hills, CA 91367
Classroom website
Facebook