Children's Community
Development Center
A few months ago, we noticed that our slide – installed in 1992 – was cracked. As we were measuring to replace it, it occurred to us that we could/should rethink what the space needed.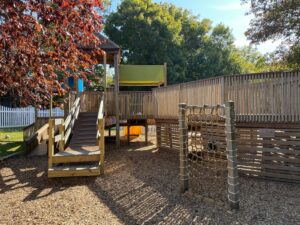 In addition, we noticed that our teachers did not have comfortable places to sit while in the Sand Play Area. We consulted a playground builder who designed some changes. These included the removal of the large slide (there was a smaller double slide already on the structure), and the construction of a platform and a suspension bridge. We also installed some decking in the sand play area, added some seating, and storage, opened a section of fencing to make a mud kitchen, added a pouring feature, and moved an outdoor water table to this area.