Children's Discovery Center
Nature should be a vital, enjoyable component of children's everyday learning, according to the Children's Discovery Center (CDC). Children can express their imaginations, inventiveness, and initiative when working with natural, open-ended materials.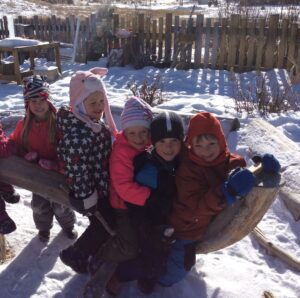 The CDC is the only non-profit preschool in Pinedale that provides year-round childcare services, and it provides all-day school programs for kids ages 2 to 5. There are several important components to the summer program offered by the CDC throughout the months of June, July, and August. Two essential elements are cooperative programs and community involvement. Teachers at the CDC use weekly topics including weather, outdoor survival, insects, native fish, and others to encourage students to get practical learning experiences by visiting nearby establishments.
The Outdoor Classroom was developed and launched in 2012, even though the preschool did not receive certification until 2018. The outdoor classroom has areas for music and movement, nature art, lower and upper messy materials, sand, water, two dirt-digging areas, gathering areas, bike areas, climbing areas, building areas, kitchen areas, and action areas. Some of these sites must close throughout the winter because of the significant snowfall.
The CDC has two greenhouses on the property (the Growing Dome and the Hoop House), and the students actively participate in all phases of horticulture in this subalpine climate. The students participate in all aspects of greenhouse construction, including preparing the soil, selecting the seeds, planting, watering, and tending. The full circle is completed when the students prepare and consume the crops in the kitchen classroom during breakfast, lunch, and snack times, as well as Friday cooking classes. Throughout the summer, the students also participate in the neighborhood farmer's market, where they sell the locals produce and other goods. The children' most successful growing season was this past summer, when they produced crops like tomatoes, swiss chard, cucumbers, peppers, carrots, sugar snap peas, and herbs like mint, chives, basil, and flowers.
Throughout the year, the CDC hosts different events to encourage our parents and community members to volunteer at our site with clean-up and maintenance efforts and planting/gardening in both of our greenhouses and other gardening spaces. At the next clean-up/family day in May 2023, the CDC will plant flowers fix some broken items and hopefully start construction on the yurt.
The CDC is grateful for the annual financial sponsors that assist us with our program's needs: Wyoming Community Foundation, Wyoming Arts Council, Sublette BOCES, Rocky Mountain Power Foundation, Pinedale Lion's Club and our many anonymous donors.