Children's Discovery Center
The Children's Discovery Center (CDC) believes nature should be an integral, joyful part of children's daily learning. Natural open-ended materials allow children to use their creativity, imaginations and initiative. The CDC offers all-day school programs for children, ages 2-5, and is the only non-profit preschool in Pinedale that offers childcare services year-round. The CDC's Summer Program through the months of June, July and August has several key components to it. Community involvement and cooperative programs are a couple key components. CDC teachers use weekly themes such as weather, outdoor survival, insects, native fish, and more to promote hands-on learning experiences gained from visiting local businesses, organizations, and destinations. The CDC invites community-based guest speakers as an essential part of its mission as well.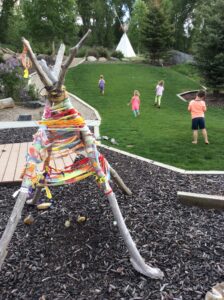 Although the preschool did not become certified until 2018, the Outdoor Classroom was built and established in 2012. The Outdoor Classroom includes a Music and Movement Area, Nature Art Area, Lower Messy Materials Area, Upper Messy Materials Area, Sand Area, Mud Area, Water Area, Gathering Area, Bike Area, Climbing Area, Building Area, Action Area and our soon to be Yurt Area. During the winter months, some of these areas are forced to shut down due to the excessive snow.
The CDC has 2 on-site greenhouses (Growing Dome and Hoop House) and the students are actively engaged in all stages involved with gardening in this subalpine climate. From the construction of the greenhouses, prepping the soil, choosing seeds, planting, watering, and tending, the students are hands-on; the full circle completed with the students prepping and eating the crops in the kitchen classroom during breakfast, lunch and snack times and Friday cooking classes. The students also attend the local Farmer's Market each Thursday during the summer months selling their produce and other items to community members. This past summer, the students had their most successful growing year with crops such as tomatoes, swiss chard, lettuce, cucumbers, peppers, carrots, sugar snap peas, and herbs such as mint, chives, and basil.
Throughout the year, the CDC hosts different events to encourage our parents and community members to volunteer at our site with clean-up and maintenance efforts and planting/gardening in both of our greenhouses and other gardening spaces. At the next clean-up/family day in April or May 2022, the CDC will upgrade its Music and Movement Area by adding a music wall. Additionally, the CDC will upgrade from a Teepee to a Yurt allowing for more space to be used year-round.
In 2021, all of our fundraisers we able to happen again with COVID regulations, but with the many donations and full enrollment, the CDC remains financially stable. In fact, two of our fundraisers (Day/Night Golf Tournament and Wreath sales) that were held in 2021 were the most successful they've ever been! The community stepped up and donations poured in. The CDC is grateful for the annual financial sponsors that assist us with our program's needs: Wyoming Community Foundation, Wyoming Arts Council, Sublette BOCES, Rocky Mountain Power Foundation, Pinedale Lion's Club and the Sublette County Recreational Board.