The Nature Explore Classroom at
The Children's Learning Center
at St. Paul's School
The Children's Learning Center is located on the campus of St. Paul's School, a private, boarding preparatory high school.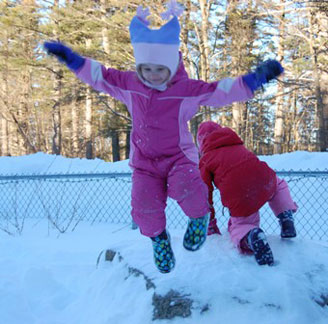 St. Paul's School students participated in and worked to complete volunteer projects in support of the playground renovation. They have played a meaningful and active role throughout the three year project.
Parents have also been taken an active role, volunteering to create and install the many features in the natural playscape, while spearheading development effort to raise capital.
The Sand Area is enclosed with a roof. Pine needles from the natural forest floor, pavement and grass help to define areas. Wooden signs, purchased from Nature Explore, identify each of the areas and blend beautifully with and compliment the playground.
A variety of natural materials were used to clearly delineate and separate activity areas in the classroom. Over a third of the playground is an open, wooded forest area of both evergreen and deciduous trees. Gardens are located throughout the playground. Raised planting beds and tight arrangements of tall perennials provide a natural barrier to surround areas.
The first and immediate comments made by all visitors to the Nature Explore Classroom, have to do with its natural beauty. This classroom is fortunate to have a large outdoor area with a climbing and sledding hill as a crowning center piece.
The classroom was personalized with ideas from students and teachers. Large boulders and lengths of pine tree trunks have been incorporated. A riverbed made of field stones and granite rocks, with a small wooden bridge spanning it, was installed and is now one of the favorite activity areas. Children are able to build and create with an endless supply of natural items.
Teachers wanted a way for children to "get wet" and stay cool during warmer weather and also wanted easier and more creative, open ended play. This was the genesis for the Misting Area. A beautiful, warm weather water feature surrounded by raised perennial gardens with an arbor entrance. Professionally installed irrigation systems with eight pop-up sprinkler heads provide a variety of moving water sprays into the area. A large, flat topped, bench-like boulder provides the center piece for the area.
The Nature Explore Classroom is helping to engage Children's Learning Center educators and children in nature rich learning at all levels.

Address
325 Pleasant Street
Concord, NH 03301