The Nature Explore Classroom at
The Children's Museum of Pittsburgh
Development and implementation of the Children's Museum of Pittsburgh's Nature Explore Classroom was inaugurated May 17, 2012 and was funded by Keep Pennsylvania Beautiful and Waste Management.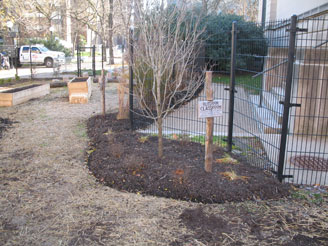 With 80,000 square feet of space, the Children's Museum of Pittsburgh welcomes nearly 250,000 visitors annually. The new outdoor classroom space will be used daily by the Pittsburgh Public School's Head Start Pre-K classes that are housed in the museum as well as for a variety of museum programs. More programs will be developed as the staff continues to work with the Pittsburgh Public School teachers.
The entire space has an inviting, intriguing feel. Plants surround the classroom, softening the fence. Native fieldstone was incorporated into the space as well as a basket hut made of invasive Norway Maple tree cuttings harvested from a nearby park. Included in the classroom are a variety of plantings such as blueberry, elderberry and currant bushes, paw paw trees and native flowers and medicinal and edible herbs.
The Garden was created with sustainable materials and practices. Recycled materials were used for containers and rainwater is collected for future use. Art supplies are available to create masterpieces as children develop close observation skills and reflect on the beauty of the natural world

see most recent
Address
10 Children's Way
Allegheny Square
Pittsburgh, PA 15212
Classroom website