Christ Lutheran Preschool
This year has been a joyful year of reconnecting with our Outdoor Classroom, which is thriving with growth! Children and teachers spend a generous amount of time outdoors as we are now able to combine classes when outside.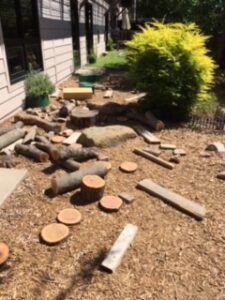 The sounds of children's play, shouts of excitement and conversations while engaged in building, sand play, making music and discovering what nature provides each day are a part of our daily experience.
We recently had a severe thunderstorm which affected one of the trees on the Church property, and caused it to split and fall. Unfortunately, the tree had to be removed, but we made the best of the opportunity to replenish our construction zone with small logs, tree cookies and larger logs for the children to roll. We also chose some logs with unique shapes to spark the children's imagination. While we miss the beauty of the large tree we lost, pieces of it remain with us to enjoy. This is a wonderful life lesson of how things (and people) we love can still provide us with happy memories and experiences even if they are present with us in a different way.