The Nature Explore Classroom at
Civic League Day Nursery
Civic League Day Nursery opened our doors in 1930 to provide care to children of working parents and soon became recognized as the State's model for exceptional care and excellence in programming. 93 years later we are still doing just that.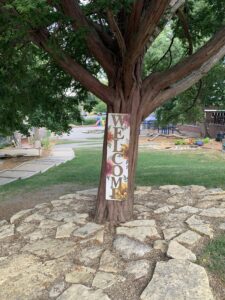 In 1975 we acquired a "new" facility in a real estate trade with the Mayo Clinic and are proud to be stewards of this historic home. We are located on an acre of gently sloping land in the heart of the city. Civic League is a fully licensed daycare center yes, but we are unique in that our setting is a home. It is this homey feel and family atmosphere that sets us apart. There is something very special about Civic League Nursery! Each age group and classroom are unique as well.
Learning and growing are a part of each day as various themes are explored and core competencies are mastered. Our learning goes far beyond the ABC's and 123's however. Our large grounds give way to gardens in the spring, summer and fall where the children take pride in their "outdoor classroom" where they sow and reap (and eat!) many different vegetables, herbs and produce. They learn about worms and composting, bees and pollinators. In the winter, our children use the sloping hill to race down with sleds only to pull them back to the top and do it all over again! Our home is filled with music and movement, calming yoga and content, joyful children.
There has been a shift, a movement of sorts in our society as a whole to guide our children to "get back to nature" and experience play the way children did just a few generations ago. We at Civic League eagerly jumped aboard this crucial offering for our children's ongoing growth and development.
Our main project goal was to create outdoor environments that provide children daily opportunities to access nature play as an integral part of their learning. These daily encounters differ from simply going on an outing or arriving at a destination for a visit. Here, we created the environments for the child to be fully immersed in uninterrupted play, freely moving from one area to the next. Adults needed to learn to be "present yet distant" as we observe the children's work with building, constructing, painting, climbing, rolling and dangling!
This vision was born when we began working on our schoolyard gardens project seven years ago along with a grant from the Minnesota Extensions Farm to Early Care coalition. We also partnered with the Master Gardener's of Olmsted County to bring our gardens to what they are today; producing much of our vegetables and herbs for our meal preparation during peak season.
With the introduction of the Nature Explore Certified Classrooms initiative to our parents, staff and
board in the fall of 2022, we had immediate buy-in to expand our work by offering dynamic
ways to utilize our space for the upmost benefit of the children and families we serve. In fact, a generous donor who is a former family of Civic League Day Nursery, offered a monetary contribution toward this initiative as well as generous grants from Rochester Area Foundation, Think Bank, First Children's Finance and Peoples Food Co-op. We've worked with (and made friends) with area contractors who are just as excited about the amazing transformation of the yards!
Next season, (spring of 2024) I would like to continue Phase II of our Nature Explore build and remove at least half of the existing blacktop in the classroom, leaving enough for pathways for wheeled toys and sidewalk art but transforming the rest into grasses, sunflowers and addition of swings! The Nature Explore movement is a fluid, living initiative that will continue to evolve as the children lead us.
Address
427 6th Ave. SW
Rochester, MN 55902