Conner Prairie Museum

Adventure is calling. Come connect with the natural materials in the world around you. Treetop Outpost features a 4-story treehouse for guests of all ages to explore, observe, wonder and play. Immerse yourself in playful learning in our art, dig, build, and play areas around Treetop. Borrow an Adventure Backpack and explore the Nature Walk.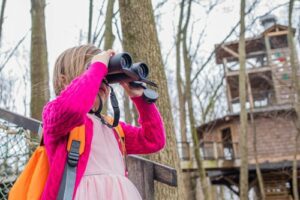 Treetop Outpost is an area that encourages curiosity about the natural world around us through exploration and play. Treetop staff engage guests using activities, dialogue and the natural and human-made abundance that Treetop has to offer.
Visitors are encouraged to borrow an Adventure Backpack to enhance their explorations of our nature trails. Backpacks were launched in March 2023 and contain numerous tools to support exploration: binoculars, hand lens, field microscope, field guides, and more.
Be sure to check out our updated Nature Library in the bottom floor of the Treehouse. We have selected fiction and non-fiction titles to intentionally represent and welcome our diverse visitors.