The Nature Explore Classroom at
Country Corner Daycare/Preschool
The mission of Country Corner is to provide hands-on opportunities for learning and skill development through nature-based inquiry, creative arts, and outdoor exploration to develop a lasting appreciation for the natural world. Our mission is to educate and inspire current and future generations to explore, respect, and protect nature.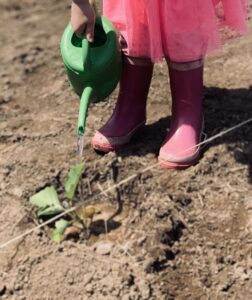 Country Corner Daycare/Preschool is located on four acres surrounded by white pine and flowers, certified as a wildlife habitat through the National Wildlife Federation. Our gardens and natural ourdoor classrooms are an ideal setting for exploration and play. Our curriculum is guided by weekly lessons that flow with the seasons and encompass experiences that promote cognitive, physical, social, and emotional development.
Here, your child will:
– be better prepared for the learning environment and skills required in kindergarten including social skills, confidence and motivation to explore, learn, and grow
– see themselves as young naturalists
– ask questions and investigate answers
– be creative and curious
– respect all living things and seek to disturb as little as possible in the natural world
What makes us special?
We teach your child to love and respect all things of nature, from the ant crawling on the ground or the leaves turning colors in autumn. Your child will be offered interaction with real-live animals, natural objects, outdoor interpretation, and creative art activities.
Is Country Corner the right fit for your child and your family?
Country Corner Daycare/Preschool is intended for infants, toddlers, and preschoolers whose families are looking for a nature-based discovery program. This program may be right for you if your child enjoys hands-on learning and being outdoors in all seasons.
Address
14549 11th Rd.
Plymouth IN, 46563